ALEX ROSS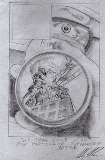 Unused Marvels cover
not published by Marvel Comics
circa 1994
From the best miniseries since The Dark Knight Returns, the pencils for an unused cover. Here, the Fantastic Four and the Silver Surfer battle Galactus high atop the Baxter Building, and the action is reflected in Phil Sheldon's camera lens.

This could be the unused cover to Marvels #3, which retells the story of Fantastic Four #48-50, Marvel's first really great epic storyline. Or it could have been the proposed cover to the Marvels TPB, because below the image it reads "this image could be of any particular superhero battle."

After seeing very sketchy pencil roughs by Alex Ross sell for gazillions (give or take) I sure was pleasantly surprised to find this piece at an affordable price, thanks to the kind folks at artworkworld.com.